about revival and hope, showing butterflies in slow motion, made entirely in 3D
News
"Gone?" featured by the Natural History Museum, London
Have a look at Natural History Museum facebook channel, Natural History Museum Twitter channel, Natural History Museum Google+ channel
Special thanks to Alessandro Giusti, Jonathan Tyzack, and Kate Hazlehurst!
Valuable words from a butterfly scientist
Read the article "An encouraging message from flying butterflies" by Alessandro Giusti, curator of Lepidoptera in the Life Sciences Department of the Natural History Museum, London.
Featured in 2015 Creativepool Annual
The book is a publication with visibility in Cannes Lions and worldwide. Entries for the competition were filtered first in a short list, then a panel of judges chose the best four in each category (Elyarch won in 3D with "Gone?").

Acknowledgement
Dr Martin Warren, the Chief Executive of Butterfly Conservation (UK) said after seeing our short film:
"A very nice video, well done!"
Alessandro Guisti, curator of Lepidoptera in the Life Sciences Department of the Natural History Museum, London:
"The video you have created is well made and is very inspiring with its wonderful message of hope."
Read his article "An encouraging message from flying butterflies" to see what else he has to say.
Warm words from Philip Clarke, a nature photographer with an extensive butterfly portfolio:
"Thank you for the superb Vimeo work entitled "Gone?". It is very, very beautiful, and I would love to know how it was created. I am very pleased indeed that you were able to use two of my photos of the Large Blue as an aid in your production.
For me, the discovery of a colony of Large Blue butterflies here in France was extraordinarily exciting; "Gone?" has brought back some of that initial excitement.
Thank you for your kind acknowledgement in the credits. I hope "Gone?" achieves your goals.
Very best wishes, Philip Clarke (pjc&co)"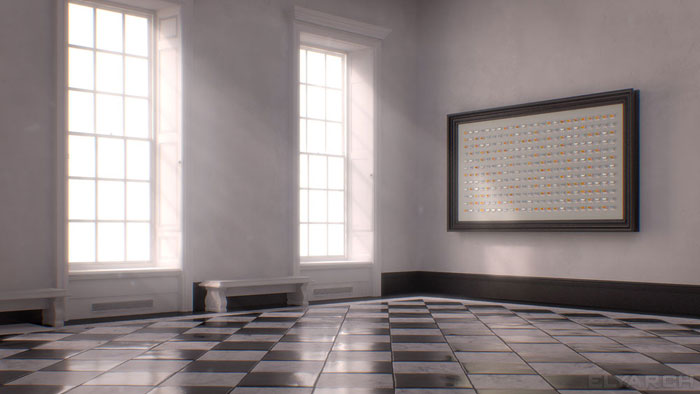 The interior is based on the Great Hall of the Queen's House (in Greenwich, London), the first truly classical Renaissance building to be erected in Britain, currently a fine art gallery.
"Renaissance" means revival and the setting was chosen purposefully to symbolise the revival of the endangered/extinct beautiful butterflies.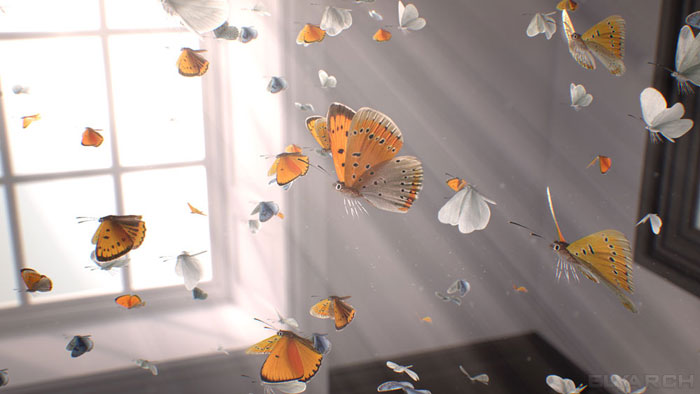 The three butterfly species were chosen on purpose: all are rare and all have a strong visual appearance (one dominant colour).
Large Copper (Lycaena dispar) - extinct in Britain since mid XVII century, rare in Europe;
Wood White (Leptidea sinapis) - rare;
Large Blue (Phengaris arion) - critically endangered, became extinct in 1979 on the British Isles, then successfully reintroduced - in essence: revived.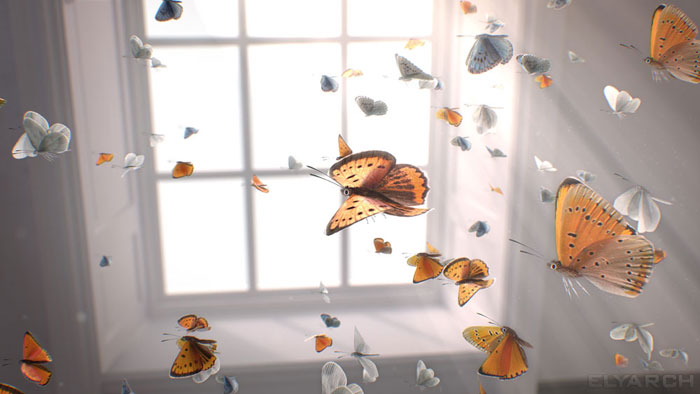 Symbolism:
Endangered species can be protected, extinct can be revived, we just need to care about them. Noticing their beauty is the first step.
Your soul and what matters to you can escape any confinement and be set free and reborn, and be beautiful in its flight.
The Large Blue butterfly - a symbol of hope and revival.
Created by Elitsa Dimitrova and Graham Macfarlane. This film has not been commissioned.
It shows what we can achieve.
If you have been inspired by "Gone?"
you might also find interesting...
Sensational Butterflies at the Natural History Museum is a remarkable exhibition, starting in April and continuing until September, every year since 2009.
It is situated on the East lawn, in a temporary enclosure (large tent), providing the natural environment for hundreds of tropical butterfly and moth species.
You can experience them live around you: flying, dancing and landing, sometimes on you. A lot of photography opportunities and a lot of interesting information on the displays along the trail amongst many beautiful blossoming plants. There is also a hatchery, where one can observe the emerging butterflies and moths from their chrysalis. An unforgettable experience!
The exhibition is over for 2015, but it will come back next year.
Digitisation Program at the Natural History Museum, a massive undertaking of great impact.